SAFEGUARDING - Updates to Church of England Safeguarding Policy
There have been significant changes to the Church of England safeguarding policies in the last few years. Reading the latest policy and speaking with the Diocese Safeguarding Advisor (DSA) Charles Procter to explore and understand the current safeguarding practice and responsibilities for activities which may involve children, young people, and vulnerable adults, it is clear that *some roles* in bellringing will involve DBS check, and/or confidential declaration, plus safeguarding training.

Some of the key points to be aware of:

Q1) How important is it to follow the safeguarding guidance published by the Church of England?

In 2017 the Church of England published Promoting a Safer Church; House of Bishops policy statement (2017).
This contains the following statement in the scope at the start of the booklet:

"Under section 5 of the Safeguarding and Clergy Discipline Measure 2016, all authorised clergy, bishops, archdeacons, licensed readers and lay workers, churchwardens and PCCs must have 'due regard' to safeguarding guidance issued by the House of Bishops (this will include both policy and practice guidance).* A duty to have 'due regard' to guidance means that the person under the duty is not free to disregard it but is required to follow it unless there are cogent reasons for not doing so. ('Cogent' for this purpose means clear, logical and convincing.) Failure by clergy to comply with the duty imposed by the 2016 Measure may result in disciplinary action."

In summary this means the CofE safeguarding guidance must be followed unless there are compelling reasons for not doing so, and the incumbent (or other clergy) could face disciplinary action if this is not the case.

In June 2018, and updated in October the Parish Safeguarding Handbook (2018) was published.
The introduction contains the following statements:

"The duty to have 'due regard' to guidance under section 5 of the Safeguarding and Clergy Discipline Measure 2016 applies to the handbook"

This means all relevant persons must comply with the guidance in the handbook unless they can point to clear, logical and convincing reasons for not doing so.

"failure to have due regard to House of Bishops' Safeguarding Policy and Practice Guidance may have direct consequences for the validity of your insurance"

So failure to comply may invalidate the church insurance.

Failure to comply the policy may also have serious implications for your PCC with the Charity Commission.

Q2) What are some of the key points from the handbook relating to bellringers?

Diocese Responsibilities to Bellringers
Provision of safeguarding training.
Other safeguarding advice to parish, but may also be approached by bellringers.
Church Responsibilities to Bellringers
Each parish (or combined parish) should have an appointed PSO – Parish Safeguarding Officer with whom you can discuss or seek advice.
Church/parish should also have insurance covering any activities with children, young people and adults (again PSO should be able to advise).
Church/parish should have safe recruitment policy, which should cover the appointment of tower captain by the PCC/incumbent (at least 2 individuals to be responsible for recruitment), and a role outline including level of DBS check is required, and they will also be required to complete a 'Confidential Declaration Form'. More details in section 5 of the handbook. This safer recruitment policy applies to the appointment of all those working with children, young people and vulnerable adults, paid or unpaid.
Note: I am unclear what is expected when tower captain is already in post - to be clarified.
Joint Responsibilities
Ensure an "activity risk assessment" is completed and reviewed regularly for each activity which is associated with either children or vulnerable adults and run in the name of the church. A template is available.
Bellringers Responsibilities
Under 18 year olds must complete a registration form. CCCBR have produced "permission to ring form".
Permission forms to be completed by parents for transport/trips where they are not present, and church leaders informed and given details.
If photographs or video is taken of child, consent form must first be signed by parents.
Use of social media guidance is in the handbook section 12
Attend appropriate required safeguarding courses
An attendance register must be kept and be available at all group meetings
Should have at least two adult volunteers (even for smaller group) where children involved. If possible one male and one female, and may need to be DBS checked or completed the confidential declaration form if they are supervised.
More advice provided in section 11 of the handbook.
Q3) Who needs to complete a DBS check?

Should be defined by church, and PSO will clarify, but essentially anyone who needs C1, C2, or C5 safeguarding training (see above)

Safer recruiting practice guidance (2016) says "Bell ringers who teach or train children plus the Tower Captains who manage those adults who teach or train"

DBS (De-Barring Service) checks are free through diocese, and confidential. Forms should be available from PSO or direct from diocese.

The PSO just needs to witness the DBS certificate and make a record of the certificate number/date witnessed. It would also help to use date to manage re-application.

It is possible to get them to automatically renew if provide consent (within a very short period after receiving certificate) for repeat check on expiry.

NOTE: The Disclosure and Barring Service (DBS) is an independent body, which came into existence on 1st December 2012. It combines the functions of the Criminal Records Bureau (CRB) and the Independent Safeguarding Authority (ISA)

Q4) What is a 'vulnerable person'?

Anyone under the age of 18; or a person aged 18 or over whose ability to protect themselves from violence, abuse, neglect or exploitation is significantly impaired.

Vulnerable adults are explained in more detail in the handbook in the "Language" section that clarifies the language/terminology.

Q5) What if there is no incumbent or tower captain?

If there is no tower captain the person(s) responsible for regular ringing activity should check all necessary measures are in place with PSO.

If there is no incumbent (interregnum) the PSO/PCC manage the safeguarding responsibilities of the incumbent until can hand over to subsequent incumbent.

Q6) What if there are no vulnerable bellringers at your tower?

The policy stipulates that tower captain appointments should be made by the PCC/incumbent, must have DBS check, completed a confidential declaration form, and safeguarding training C0, C1, C2, and every 3 years thereafter do C0/C5 refresher courses.

Further clarification is being sought for tower captains already in post, but even if it transpires that they are not required to complete all the elements of safer recruitment policy (e.g. job/role description, advertise etc.), it is probable they will still be expected to do the safeguarding courses and have DBS check or complete a confidential declaration form.

Other activity helpers would not need C1 safeguarding training, or DBS, or complete a confidential declaration form if there are no vulnerable persons. However it would be sensible to have a plan for what to do in the event a vulnerable person asks to join/learn bellringing at the tower in the future, and declare this plan to the PSO.

Q7) Branch responsibility

The responsibility for towers/parishes has been described above based on the CofE guidance which has a parish context.

The role of the branch and activities organised by the branch is not covered by this note, but are unlikely to be directly affected because most branch events are monthly or ad-hoc events, and by their frequency are not typically considered to be a 'regulated activity'.

However it is worth pointing out that children and young persons that travel by private transport to such events should be accompanied by a parent or guardian, or written consent should already have been arranged between parent/guardian and the responsible person providing the transport (who should be DBS checked or have permission to act as parent/guardian 'in loco parentis').

Q8) What Safeguarding Training needs to be completed by whom?

Appropriate Safeguarding Training Courses

According to Handbook, and Safeguarding Training & Development Practice Guidance Document (2017)
Tower captains must undertake C0, C1 and C2 training, with C0 and C5 every 3rd year thereafter as refresher
Activity Helper is required to do C0, and C1, with C0 and C5 every 3rd year thereafter as refresher.
Examples of an activity helper would include supervising a training session, or teaching vulnerable learners especially where it involves working in close proximity or could require physical intervention, or where it affords any regular opportunity to build a relationship of trust.
Any Bellringer may do C0 basic awareness (optional unless need to do C1 or above)
Courses C0 (Awareness) and C1 (Foundation) are available online at https://safeguardingtraining.cofeportal.org/login/index.php
C1 (Foundation) also available offline presented by a person/tutor (as arranged for 11th May 2019)
C2 (Leadership) only offered offline presented by a person/tutor.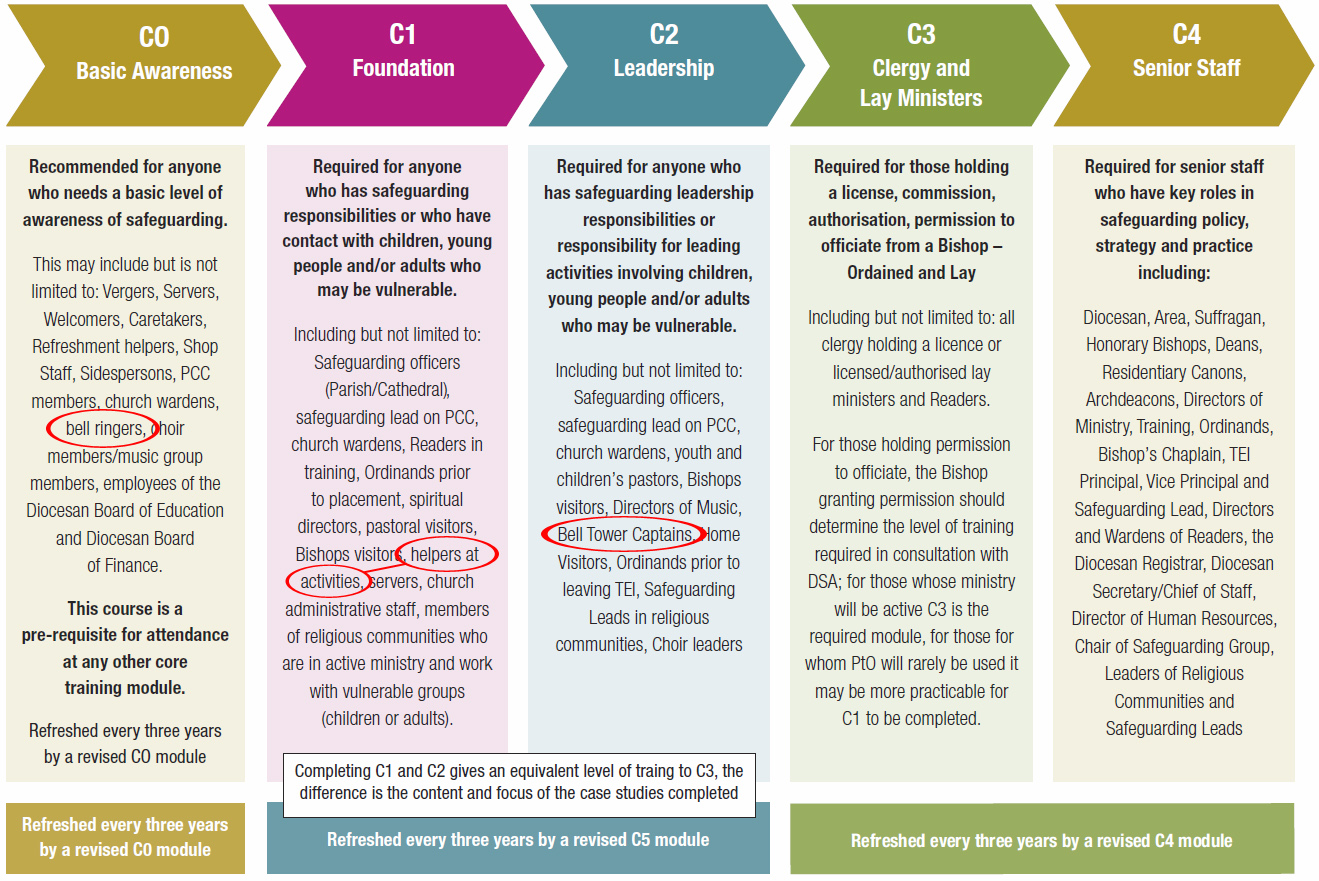 NOTE: The Disclosure and Barring Service (DBS) is an independent body, which came into existence on 1st December 2012. It combines the functions of the Criminal Records Bureau (CRB) and the Independent Safeguarding Authority (ISA)